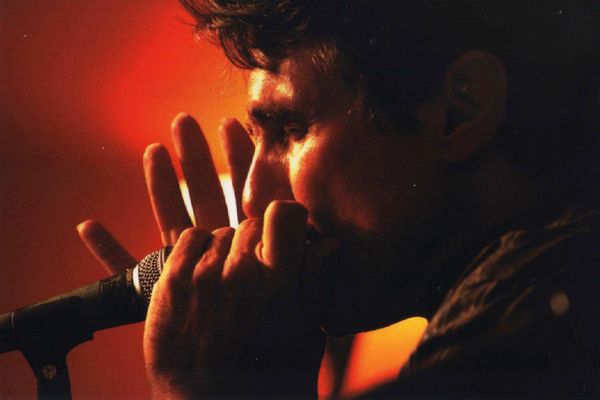 "Gary Allegretto is one of the classiest acts in the music business today, working only with the best backup musicians and taking the time to craft music noted not only for its quality but for its authenticity. ...intimately honest, and what's best about his genuineness is its completely offhand quality. If someone complains to you that they don't make "real" blues records anymore - albums that sound like lost classics yet retain the freshness of an individual - play Many Shades of Blue for them."
~Blues Revue Magazine
A down-to-earth guy with lifelong wanderlust and more than a few stories to tell, Gary Allegretto's resume reads like a men's adventure wish-list: back-country forest ranger, forest firefighter on an elite "Hotshot" crew, LA city firefighter, "bouncer" in a couple rough honky-tonks and a Blues bar, cowboy and ranch hand, beach lifeguard, white-water rafting guide… and traveling Bluesman. His accomplishments are also widespread and diverse. He's a summa cum laude college graduate that Northern Arizona University recognizes as an "Alumni of Distinction". He's the recipient of multiple awards for his outreach to children. He's also the founding director of Harmonikids, a humanitarian organization that gives music therapy with harmonicas to special needs kids worldwide. Through it all, Gary can barely remember a time when Blues and Roots music weren't a powerful part of his life, and playing harmonica wasn't as natural as his own voice. He started playing upon receiving his first harp at age 5 from his woodsman grandfather. Soon after, while attending a cultural festival he carelessly wandered away from his family following an irresistible sound ... a Big Walter Horton performance. As the loudspeakers blared something about a lost child, he knew he'd found his calling… and he followed. 
Down the road, Allegretto's performances have captivated audiences from the stages of venues and festivals worldwide and his recordings have received multiple Grammy Award nomination considerations. His music has topped the Blues and Roots radio charts internationally. On stage his live shows have attracted guest performances by famous musicains such as Prince, Mick Taylor, Warren Haynes, David Lee Roth, Rick James and celebrity musicians such as Queen Latifah, Bruce Willis, and Dennis Quaid. He is the 2011 recipient of the Blues Foundation's prestigious "Keeping the Blues Alive" award. He's been praised in the pages of prominent Blues press including Blues Revue, Blueswax, Living Blues, Big City Blues, Blues Matters, and more. Critics have called his musicianship "world class", "masterful", 'jaw-dropping", and "exemplary". His songs can be found on film and television productions including the soundtracks of Johnny Depp's film "Rum Diary" and the national PBS television program "Roadtrip Nation". Gary is prominently featured in the KBA award winning harmonica documentary film "Pocket Full Of Soul". He has performed nationally & internationally both backed by his all-star electric band and/or acoustically. His performances never fail to catch the intrigue of his audiences, often including prominent musicians and occasional celebrities. For two decades Hohner, the world's top harmonica manufacturer, has enthusiastically endorsed Allegretto.
Allegretto is also a renowned Blues educator and recipient of the Blues Foundation's prestigious 2011 KBA Award in education. Recently Gary was chosen unanimously to be the first harmonica instructor at the Pinetop Perkins Foundation's Master Class 2012. Acclaimed for his versatile technique, he has taught harmonica in many other celebrated workshops including the Augusta Heritage Center's Blues Week, Telluride Blues Camp, Riverfront Blues Festival, California Traditional Music Society's Folk Festival, Tremblant International Blues Festival, John Gindick's Harmonica Jam Camp, the Folk Alliance Conference and Stax Music Academy in Memphis. He is a Blues educator whose peerless children's programs have taught thousands of kids worldwide to both learn about and actually play songs on the harmonica with lightning speed, elevating not only their knowledge - but also confidence and self esteem. Gary's exemplary "Blues in The Schools" program, has been featured by many Blues societies internationally and featured by the Blues Foundation in Memphis area schools as part of the 2008 and 2010 International Blues Challenge. In addition to his captivating performances, Allegretto offers concert promoters the unique option and opportunity to provide entertaining harmonica workshops at their venues. Gary's workshops include new harmonicas & lessons for folks of all ages and ability levels ~ a rare opportunity to learn from a professional.
Of special note, Gary is the founder and director of Harmonikids (see www.harmonikids.org) which is a 501(c)3 non profit charitable organization that provides music therapy with harmonicas and lessons to special needs children internationally. His work has earned him the aforementioned 2011 KBA award and 2010 Artists for a Better World award. Allegretto has provided aid to special needs children from the earthquake devastated Port Au Prince, Haiti, to the tsunami refugee camps of North Sumatra, Indonesia to the Katrina evacuee trailer villages of Louisiana and many points in between. Harmonikids has received widespread acclaim in the media including The Today Show, PBS News programs, as well as Vogue, Blues Revue, Blues Matters, Big City Blues, and Living Blues Magazines. For more information about his unique humanitarian work please visit www.harmonikids.org.
Gary's recordings have received rave reviews, topped the Living Blues and Roots Music radio charts and received multiple Grammy Award nomination considerations including Best Contemporary Blues album. His song "Four Day's Late" recently won first place in Alternate Root Magazine's "Songs for Social Change" contest by a landslide. On his CD "Many Shades of Blue", Gary was enthusiastically joined on the CD by friends and prominent artists including Ivan Neville, Janiva Magness, and Doug Macleod. On a personal note, the CD also proudly features duets of Gary with his dear friend; the great National Heritage Award winning Bluesman, John Cephas. Sadly, they are among John's last recordings.
Allegretto has also recorded with others, notably 2005 Grammy Life-time Achievement Award winner and Blues legend Pinetop Perkins on Rich Del Grosso's Blues Music Award nominated CD release. At the conclusion of their CD release gig performance Pinetop gave Gary the ultimate personal endorsement exclaiming that he "can really blow that harp!" and then as he left the stage he turned and deliberately pointed directly to Gary saying "You keep the business going." In Gary's words, "This was from an idol of mine, a legendary man who played with Muddy Waters, Sonny Boy Williamson, Little Walter, and many other ultimate legends of the Blues. My heart stopped and I just said...'yes sir', realizing that this was not just another reason to keep playing the music I love and continue the work of "Keeping the Blues Alive" ~ this was direct orders from the last of the great Mississippi Bluesmen.





 
"That boy can really blow that harp!"
~ The Legendary Pinetop Perkins

"... I listened to (Many Shades of Blue) often for musical and spiritual pleasure. Gary's Blues tells stories of soul, wit, and humanity and I got to know him real well because he gives everything he is to his music. This is honest music crafted from inspiration, talent, and skills, delivered at a high level of accomplishment. I'm really impressed with the maturity, facility, and depth in Gary's harp playing. He could sure teach a lot of harp players about tone, phrasing, and getting the most expression out of a very expressive instrument. His songwriting, singing and arranging are very accomplished too. No wonder (Many Shades of Blue) is being well received... Gary's music made me feel good, and that's a very attractive quality."
~"Steady Rollin'" Bob Margolin, Renowned Bluesman, Muddy Waters Band Guitarist, and Blues Columnist

"Full bodied with a sweet aftertaste... Some of these songs sound like instant classics and should be covered just as often as Muddy Waters. This album is a standout in the releases in the Blues markets." (BluesWax rating: 9 out of 10)
~ Kyle M. Palarino, BluesWax

" A warm, diverse outing... impressive... Allegretto is not only a fine harp player but an all around good guy too... Many Shades of Blue is just what the label says, many shades and all done well."
~Living Blues Magazine, December 2008

"... Allegretto is one of the best harp players you'll hear. In an instant he can switch gears from smooth to sassy. The reeds jump at his command! Don't miss a rare opportunity to see and hear this fine blues veteran."
~ Rich Del Grosso, Blues Revue Magazine

"...Allegretto's heady brew ranges from Piedmont style acoustic Blues to hard rockin' electric numbers. He has put together a stunning package that marks him as a compelling songwriter, a masterful harpist, and a strong singer. While his more famous friends make significant contributions to this project, it is Allegretto's vision that burns the brightest. It's hard to believe that he has not garnered more attention up to this point. This recording, which has received Grammy consideration, should finally get him the recognition he deserves. This one is highly recommended!!!"
~Mark Thompson, President of Crossroads Blues Society

"Gary Allegretto is a blues singer, songwriter, and harp virtuoso who does a good job covering many roots styles on his latest CD release Many Shades Of Blue. He includes tastes of swampy, greasy, and rocking flavors in both acoustic and electric formats and has the chops and the all-star backing band to make it all happen.

Special guests on the album include heavyweight champs like Ivan Neville, Janiva Magness, Doug Macleod, Rich Delgrosso and John Cephas and their appearances contribute to both Allegretto's music and his credibility in the blues scene. He has also lived quite a life and has many experiences from which to draw music from... these experiences populate Allegretto's original songs and elevate him over the many acts out there that continually re-work standards.

Allegretto's songs are authentic and individual at the same time, and... he's certainly a hot hand on the harmonica. It is a tough juggling act to remain true to one's inspirations while finding a unique musical voice, especially in roots styles, but Allegretto makes it look easy.

Those who are searching new blues material that sounds like the "real" stuff will find Many Shades Of Blue to be an excellent choice to keep their speakers warm on cold winter nights."
~Mike O'Cull, Blues Blast Magazine

"WOW - (Many Shades of Blue) is a SUPERB and joyous album! Every once in a while an unexpected delight like that drifts into my mailbox. I don't mean to gush like a teenager - but it's really an album to be proud of... It's a joy and an honor to play it!"
~Nick Gerard, "Nothin' but the Blues", KKJZ Los Angeles

"... Gary Allegretto shines bright on this soulful program of down-to-earth comfort... Allegretto sings with a natural storytelling appeal that's easy to understand. His harmonica gives the program a zest that ensures magnetic forces. One listen and you're under his spell. One listen and his audience is sold on pure blues with a message that comes from the heart."
~ Jim Santella, Southland Blues Magazine

"Gary, you're a class act. You can really play both acoustic and electric. This record (Many Shades of Blue) is done with real taste... Vocals are good... the songwriting is quite good... a very enjoyable listen. Congratulations and thank you."
~Bruce Iglauer, President, Alligator Records

"A MASTERPIECE... ALL KILLER, NO FILLER... since 2000 the "Blues world" has produced only about 50 discs that made me wish I still had a radio show, & 'Many Shades of Blue' is one."
~John "Juke" Logan, Mocombo Records

"To simply call Gary Allegretto a bluesman would be a disservice. Gary's a cleverly gifted songsmith with a wry sense of humor delivering every song with smooth vocals and a master's harp. Expressive phrasing, tone and attack ... this cat's got the goods!"
~The Blues Hound, 90.1 FM KPFT Houston

"This superb album by the American singer and harmonica player is under consideration for a Grammy Award as Best Contemporary Blues Album. It is mostly self penned and several name players appear including Ivan Neville. The sound quality is brilliant, so warm it feels as if you're in the room with the band playing. You can truly appreciate the amazing empathy of the musicians who have obviously played together many times. This highlights a very special musical gift that seems to have been overlooked by the critics.

Allegretto has a rare and distinctive quality as a bandleader. The same gift that Miles Davis was noted for; that of being able to conduct, lead, draw together a band with just a slight gesture musical or physical, it seems almost telepathic as, after a chorus or two of ensemble playing, the harmonica just draws all of the musicians back to the main theme. The solos are economical, and the instrumental interplay is faultless. The harmonica playing is exemplary and the drumming is impeccable with a lightness of touch and a perfect back beat. Every track is good but 'Tattoo of Truth' really stood out as the crowning jewel of a brilliant piece of work. Allegretto captures the feel and sound of John Lee Hooker's early Chess tracks and marries it to a new song. Most styles of city and country blues are explored and the album gets better with every listen."
~Vicky Martin, Blues Matters! (UK)

"Harmonica ace Gary Allegretto is equally fine in cowboy, Piedmont, Mississippi Delta and Chicago styles. On Many Shades of Blue he sings well, has great guests and writes good songs.

Allegretto is a seriously good, no-nonsense bluesman. By all accounts, he is also a seriously good bloke. His non-profit organisation Harmonikids brings music therapy to children in extremis, worldwide. In his own land, post-Katrina New Orleans (it prompted a fine song that Ivan Neville sings on Gary's new CD) is one Harmonikids place he's been. Australia and post-tsunami Indonesia are two others."
~Doug Spencer, The Weekend Planet, NPR Australia

"I have to admit, I didn't know who Gary Allegretto was when his cd landed on my doorstep. What I do know is that I will now never forget his name. "Many Shades of Blue" (Big Fiore Records) is the title of the great new disc by vocalist/harp player Gary Allegretto. 14 solid tracks of pure electric and acoustic blues... This one shines all the way through."
~Greg "Doc" Lefebre, 90.1 WGMC, Rochester, NY

Listening to "Many Shades Of Blue" by Gary Allegretto is like looking at Italian renaissance painting, full of colors, espressiveness and sweetness. With his smooth voice, his good harp sound and his real passion for many kinds of blues, Gary has recorded a little masterpiece. Brilliant groove from the heart... Not to miss!
~Simone Bargelli, DJ for Rock n Blues Today; Reporter for IL BLUES Magazine, Umberto Italy

Many Shades of Blue is the perfect title for Gary Allegretto's second CD. This compilation has enormous variety and each song stands on its own which makes the CD easy to listen to, over and over. Beginning with the slinky "She Speaks to Me" which lays out Gary's affair with the harmonica all the way thru to John's Kitchen Rag, a bad cut will not be found on this album. His original lyrics tell many tales of his life experience that well, you just want to hear about. Outstanding musicianship and vocals from all who contributed! Well done, very well done.
~Linda Kirschbaum, Houston Blues Society

"These 14 tracks leave no doubt, Gary Allegretto is a master harmonica player, up there with guys like William Clarke, Mark Hummel or Charlie Musselwhite. His technique is impressive and precise, but at the same time his playing doesn't sound forced or "from the book". Harmonica is just Gary Allegretto's natural voice. I was also impressed with the songwriting - "Throwin Heat" is very clever. All this together with a first class backing band (in-the-pocket rhythm section and fabulous guitar) create an essential CD!"
~Blues DJ Przemek Draheim "The Voice of the Blues" Radio Show, 92.8 FM

"Great songs, fat sound, real blues."
~Bernard Sellam, Radio DJ, 90.1 FM

"After a lot of pleading we've convinced Gary Allegretto to not leave the country just yet … with influences ranging from Sonny Terry to Sonny Boy Williamson, … don't miss this absolute dynamo."
~The Basement, Sydney Australia

Gary Allegretto and the Sugar Daddys - Really are "Throwin' Heat!" From the title track all the way to the end, we couldn't find a rendition we didn't enjoy! The high energy of "Throwin' Heat" starts you off. Then, "Wish I Was In Heaven Sittin' Down", done in a style reminiscent of Phil Wiggins, let's you catch you breath. By the time you get to "Blowin' Town" you're starting to think that this one has to be the encore, (definitely one of the BEST tracks on the CD and worthy of fine praise), but then he hits you with the last track, which is a real treat; "Untrainable". That can only be described as WOW! If you haven't heard Gary Allegretto, you're gonna want to hear this.
~John Francis, www.harphouse.com

Good energy…virtuostic harp performance…outstanding guitar…a solid band with an honest, good old-timey feel. Very enjoyable. (Review of Gary's CD "Throwin' Heat" )
~ Bruce Iglauer, President, Alligator Records

Allegetto kicks hard…mixing up the roadhouse sound with refreshing country blues…rocking…edgy…harmonica chops & guitar work shine brightly.
~Blues Revue Magazine

Allegretto's latest blues venture (Throwin' Heat) has a smoky bar room feel, and the Sugar Daddys provide a solid foundation for his homegrown vocal harmonica stylings.
~ Easy Reeding Magazine

"Every time I play (Gary's CD) "Throwin' Heat" listener response is so great that the phones light up like I was giving away hundred-dollar bills."
~Dennis Schaibly, Blues DJ, WWOZ, New Orleans

High energy, unpredictable, good old American shit-kickin' Blues
~The Mammoth Herald

"If you like blues that actually sounds like blues, the blues your mamma and daddy might have been under the influence of when they slipped out of that frat party and went for that fateful moonlight drive that ended up in the conception of your oldest sibling, then bring your butts and your better judgment, or at least good protection, down to see Gary Allegretto and the Sugar Daddys!"
~ Darrell Hope

"The night that Gary & the Sugar Daddys played (the Mint) was the best party we had."
~ Actor Bruce Willis

"I just want to get up & play some blues with you guys."
~Prince

"Gary Allegretto is a GREAT harmonica player."
~ Actor Harry Dean Stanton, guest hosting on ABC's "In Concert"

"Gary Allegretto and his work are most worthy of support."
~ Actor Dan Aykroyd,

*For testimonials to Gary's work in education please see "EDUCATOR" tab